Most Private Collections Are a Mess, Or They Are Boring
Ever thought of coincidence and fate can bring you to a historical setting, and what you are about to do will become a meaningful puzzle piece that helps to contribute to a nation's culture? The answer is both yes and no. We surely are overwhelmed by the power of chances yet we still are always surprised by what they bring upon us. Gunda and Peter Niemann came to Athens of Greece in 2017 for the Documenta, and never thought they still remain there today. The only difference is that they have renovated an industrial space full of old tales into an artistic space — the Haus N we see today. A seed planted by the Niemanns in Greece has turned into a beautiful flower which added many more colours to this cultural city. Not merely a place to exhibit art, but Haus N serves as a collaboration platform with different artists for its own publication called 'Text to the World — As It Is and As It Should Be'. The journey has been a long and rough one for Athens and Greece, but at least Haus N is here to be one of its truest families now.
Collecting
How did the very first moment happen — the one thing/experience that dragged you into the art world and expand your interest so much to even start collecting?
I bought the first piece of art when I was 16 years old — a print 80×80 cm — lost it by now. A friend of mine had an artist as a girlfriend — older than we were, and I was deeply impressed — later I visited New York, and the first thing I did was to go into MoMA to look at Jackson Pollock — it was as chaotic as I had expected, and I started to understand that art can be everything — but it was not only art — it was literature and music also — I remember one night listening to the radio and they played a new record — it was The Mahavishnu Orchestra — Birds of Fire — this also changed my life — later I hitchhiked through Central America — someone recommended Thomas Pynchon's book V — again life changed — and this is keeping on — from time to time my head is turned 180° — and on we go with new eyes in a new direction.
What did you newly discover about art and the art world/market when you first started collecting?
I use art as a starting point to struggle on. A lot of art dealers are afraid of the market and hope to hide away in the art world. Reality hits them hard.
How many artworks do you own until now?
I know it, but won't tell you — no show off — my house, my boat, my cats.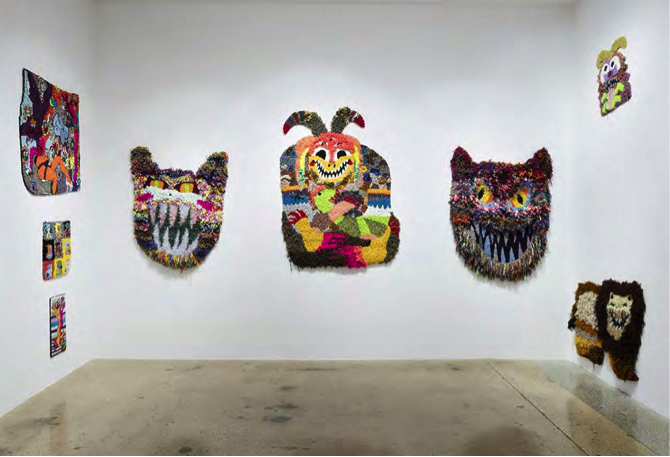 What is your focus regarding artists inside your collection? Are you more interested in renowned or emerging ones?
No concept, no rules — full of mistakes but with a lot of fun — let it flow — most private collections are a mess, otherwise they are boring.