STEVE TURNER LA:

GABBY ROSENBERG
If the wallet of your heart is running low, then Gabby Rosenberg's "Night Pockets" provides enough spare change for your paradigm to spend. Rosenberg's exhibition at Steve Turner LA embodies the identity narrative seeping with the primal desire for interpersonal connection. In an era where ethnocentric dogma marginalizes the "other" through the myopic eyes of those who seek to be understood but never really fully understanding differing views with empathy, this art enriches further the "otherness" discourse.
A first reading of Rosenberg's acrylic paintings reveals thick brush strokes reminiscent of the Bay Area Figurative School's gestural style with expressive color. Her figures are simplified interpretations of youth depicted circular compositional shapes where large areas are blocked out with primary and secondary colors.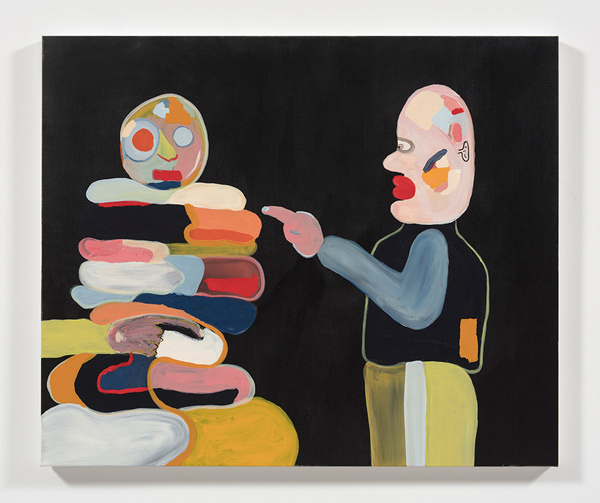 For example, Gaze Interruption (from One Party) (2019) entails a frontal child-like image staring and encircled with thick hula hoop-bold colored shapes. Next to this figure with finger pointing in an accusatory manner another person stares. The pitch-black background is a reminder of the either-or/binary perceptions that some ignorant members of society binge on like trying to catch up a Netflix series. The patches of color on both faces indicate open scars for all to see resulting in false inferences about humanness, individuality and uniqueness.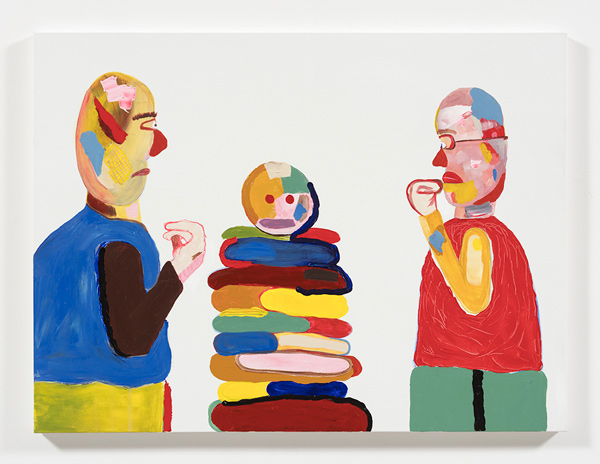 In the similarly themed Hiding (2019)Rosenberg paints a younger person covered in slinky-shaped colors. The facial expression is one of bewilderment. Both figures to the right and left, rendered in  complementing colors, stare at the youth as if trying to figure out a complicated math equation. The "pure" white background framing all three figures is a reminder of the saying, "You can run, but you can't hide." Additionally, the painting shouts for acceptance and understanding when feelings about one's humanity identification are unveiled for all to see.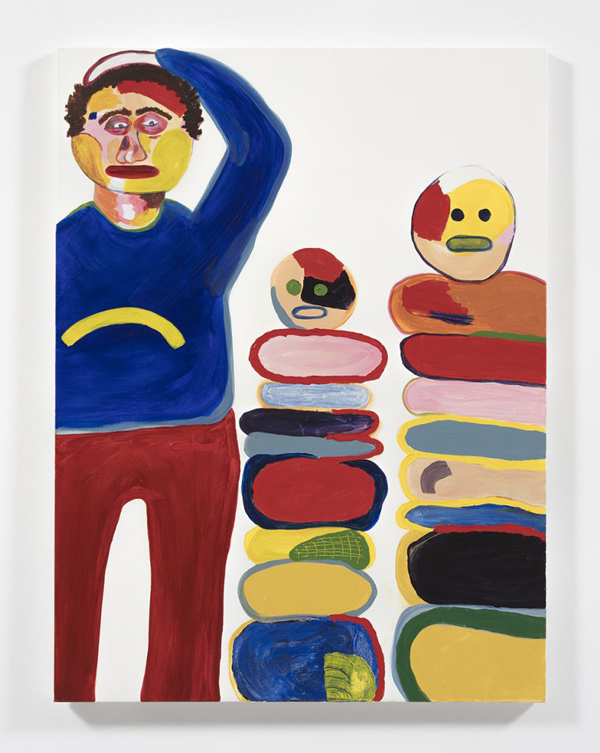 Gabby Rosenberg's body of work is a relevant message during such polarizing political times where venomous tongues spew out poisonous assumptions. This courageous revelation invites viewers to lay to rest fracturing stereotypes rooted in fear and misunderstanding.
Gabby Rosenberg, "Night Pockets," March 30 – May 4, 2019, at Steve Turner LA, 6830 Santa Monica Blvd., Los Angeles, CA 90038. http://steveturner.la/