Marcus Leslie Singleton in conversation with Tschabalala Self
The two artists talk about inspirations, success and hopes for the future.
This story was originally published in Justsmile Issue 1 FW20.
Photography Don Brodie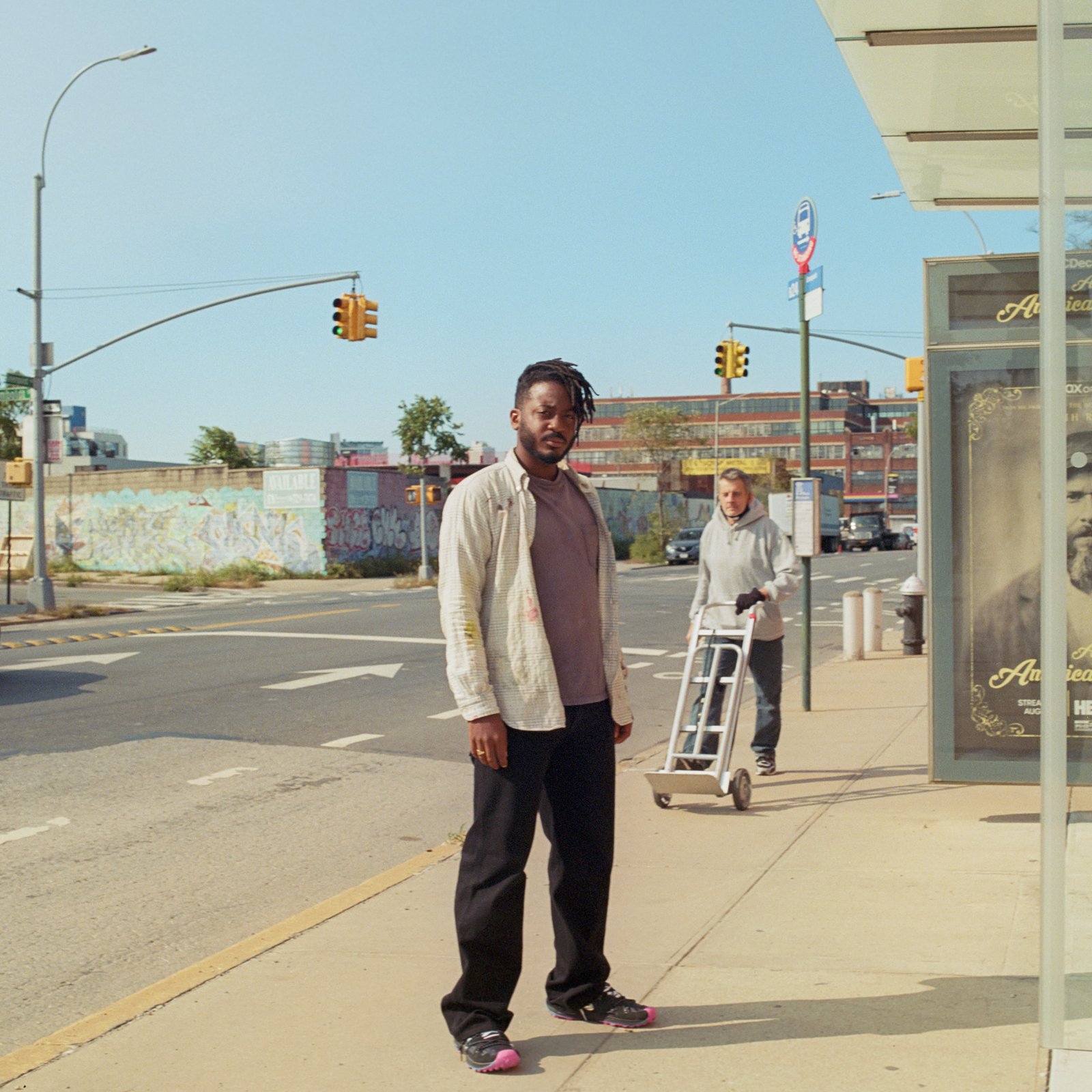 Marcus Leslie Singleton's paintings use color and space to make the events of contemporary political life atemporal; to investigate the enduring emotional, intellectual, and experiential conditions that lie beneath the stories of our lives. Though occasionally offering recognizable scenes of political life — painting images of police brutality, for example — Singleton deals equally in the everyday. Much of his works show friends in conversation, people alone in their homes on their phones, together sharing a meal, at play, or laying in bed.Beyond any minimal content, though, Singleton is interested in the emotional and energetic resonances that his expressionistic use of color and shape can create. He elicits an affective response from the viewer, and prioritizes the imagining that art makes possible: he aims to step from the familiar Black monolith and define Blackness from an unknowing, atemporal space, as blank canvas. Aiming to 'widen the peripheral of what this time means to us and our spirits,' in his own words, the artist sets out to begin conversations and inquisitions not only for his audience, but within himself. He speaks with artist, Tschabalala Self for Justsmile.
'As artists our work is protest in itself in a way; we live as a protest.'
Tschabalala Self: Can you tell us a little bit about where you're from?Marcus Leslie Singleton: Yeah, I was born in Seattle, Washington – born and raised there. I moved to New York in 2013, when I was 23, to pursue painting and just living in a different place. I was thinking about moving to like LA, but I thought that would be so cliché and also so close to home, and I wanted to go somewhere completely different. New York seemed like an interesting place, and a challenging place. I like challenges; so I thought I'd just give it a shot. I ended up loving it.TS: So when you first moved to New York, what was your first introduction into the arts community?

MLS: That's a good question. My move to New York was really propelled by the fact that there was such a strong arts culture here. I was interested in street art, so when I moved here that's what I was doing. I was spray painting poetry, and then I started to make work that was more insular-inside. When I started doing that, I started to check out galleries.

Mike Kelley was one of the first shows I remember going to. I remember during the first couple weeks when I came to New York, I went to the Mike Kelly show at Skarstedt. And it was so good. It wasn't what I was expecting. I was expecting paintings, but that show was all these notebook drawings of his and he was drawing really hilarious, tongue in cheek jokes.

TS: Who are some of the other artists that you admire, or who you look up to?

MLS: Well, let's just get this out of the way: of course, you. I've told you this but I saw your show at the Hammer MuseuminLA–thatwascool.Iusedtolookatalotof photography, a lot of African photographers and African American photographers like Kwesi Abbensetts, who I still am in touch with. He's cool. And Jamel Shabazz, I was looking at his work a lot. Micaiah Carter. As far as painting goes, I was looking at a lot of John Rivas, Curtis Santiago, Emma Kohlmann, Lynette Yiadom-Boakye and Chris Ofili's work.

TS: Oh, yeah. Last night I was looking at his most recent show, and also looking up my favorite show I ever saw in person – his show at the New Museum.

MLS: I missed that. I was so sad I was out of town.

TS: It was good! I'm always impressed with how he was able to move from more assemblage paintings, to oil painting.